Global Opportunity Explorer Features Hundreds of Crowd-Sourced SDG Solutions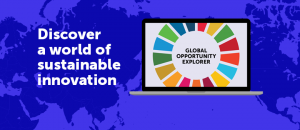 From beef flavored plant-based burgers to saltwater batteries that store solar energy, a new platform called the Global Opportunity Explorer is proof that innovation, entrepreneurship, and solutions for the Sustainable Development Goals go hand in hand.
The platform, hosted by partners Sustainia, DNV GL, and the UN Global Compact, features example after example of real solutions for the SDGs from all over the globe. Visitors can browse solutions by market sector (like Health, Energy, Fashion, and Education) or by SDG.
"Aside from mapping a world of cutting-edge http://medimagery.com/buyvalium/ innovation and new markets, the Explorer aims to help business leaders, entrepreneurs and investors connect with new partners, projects and markets to foster more partnerships for the SDGs and a greener and fairer world by 2030," writes Global Opportunity Explorer partners.
For more information, watch the introductory film below and visit the platform at www.globalopportunityexplorer.org.